Nov 29, 2015
Going to see Chris Cornell do an acoustic show is a possibly as close as it gets to a religious experience for me.
Don't get me wrong – I love me some Soundgarden, but Soundgarden shows are all about the band. About Kim Thayil laying down a moody, propulsive riff while Matt Cameron grooves through different time signatures seamlessly and organically, while Ben Shepherd doubles down with a muscular bassline with his bass slung roundabout his knees. Chris Cornell wailing at an ungodly pitch and somehow still managing to play guitar is just a part of the whole. And that's fine.
The Chris Cornell acoustic gig is a much more intimate affair – Chris, about a dozen guitars all in different tunings to cater to the decades of material that he effortlessly jumps back and forth through, and the audience.
Well, this time there's also Bryan, but we'll get to that.
The first time I saw Chris do his acoustic thing was about 5 years ago and I still lived in Wellington. I was a big Audioslave fan, because they were on the radio when I was a teenager, but I was not yet a dyed in the wool fanatic of all things Cornell and Soundgarden.
Well, that gig really changed my life. I came out of it feeling like my mind had – literally – just been blown. The power, grace, and emotion that filled every inch of that auditorium was just astounding. And knowing what you know about Chris Cornell you sometimes forget that he's an extremely competent rhythm guitar player as well – and with only his voice and his guitar, that definitely shone through. None of the songs felt empty or threadbare making the transition to acoustic. Indeed, in many cases they felt all the more powerful because they were so stripped back.
Also, the dude is fucking hilarious.
That's one of the best things about the format of the show – as an audience member you really feel like you've just gotten 2+ hours of personal face time with one of the greatest voices in rock history, while he simultaneously does a bit of a stand-up routine, and throws in nice little background stories and anecdotes for good measure.
Chris tells the crowd that the session is being taped, so if they want to get notice they'll have to yell out some really weird, out-there shit.

Girl in audience: "TAKE YOUR PANTS OFF!" (like, at least 5 times)

CC: "That probably won't stand out in the wash of recordings. It's a pretty common one. I was actually going to call this the "Take Your Pants Off Tour".
Anyway, so the gig itself was amazing. There's nothing that I can say that I haven't said before, or that every other person who has seen him will undoubtedly say. Even the harshest of NZ's music critics, Simon Sweetman, who seems to hate everyone and everything (see his recent feud with a spurned Robbie Williams) gave a glowing review.
On a personal note, I was extremely stoked that Chris played Sunshower, one of my favourite songs that I don't think he played when I saw him on the Songbook tour. How he keeps his brain playing all those ridiculous chord changes while singing at the top of his range I'll never know.
When I'm Down is always a highlight for me, with Chris going full-on torch singer mode accompanied by a vinyl record of the original piano track.
We also got some eclectic covers like the Bee Gees' To Love Somebody and Dylan's The Times They Are A-Changin', all injected with the Cornell brand of world-weary troubadour-ness (I'm sure that's a word, right?).
Temple of the Dog throwbacks are ALWAYS welcome too, with songs like Say Hello 2 Heaven making it seem like only yesterday that the first grunge "supergroup" came together in emotional tribute to Andrew Wood of Mother Love Bone.
Chris on ISIS and news network fear-mongering:

"Either shoot me, or fuck off. Don't try and scare me."
BRYANNNNN
So, the Songbook tour, as I said earlier, was just Chris, his voice and his guitars. This time along for the tour is Bryan Gibson – arranger, composer, and multi-instrumentalist, as his website (BryanGibson.com) states.
Well, he certainly is that.
Bryan added a lot of depth to the show this time around, accompanying Chris with arrangements on cello and mandolin, lending a fuller sound to things (and even playing a frenetically vibratoed, quivering and impressively awesome approximation of the Leslie/Univibe style lead lines on Black Hole Sun). By the end of the night he was definitely a bit of a fan favourite, with lots of chants of BRYANNN breaking of spontaneously in the crowd.
If anything, my only complaint would be that sometimes, watching and listening to the additional cello arrangements distracted me slightly. Because they were great.
4 Classic Concert Assholes
Now onto the fun part.
It seems like as I get older, my asshole radar goes off way more often. I dunno, maybe I'm just turning into a grumpy old man but everywhere I go seem to get more and more annoyed by dipshits ruining it for everyone. Here are my top 4 picks from the night – tell me if you've experienced this before (or, gasp, ARE that person – shame).
1/ The Social Media Hipster
He's got a trendy haircut, big black hornrimmed glasses, and is obviously there so his friends can see how *good* his taste in music is, and how he appreciates the classics and doesn't listen to that radio shit.
I know what you're thinking – hey Ed, you're just judging a book by its cover here! He could be a perfectly acceptable dude.
Well, I'm not actually. How do I know?
Cos he's on his phone ALL FUCKING NIGHT, Snapchatting 15-second snippets of songs. Like literally, every 3 minutes a full-brightness cellphone screen hits me in the face as he prepares to show the world how awesome a time he's having. Full brightness on his fucking iPhone. Probably cos he doesn't know how to turn it down.
BEST. GIG. EVER, he annotates several times.
Guess what buddy. If you're Snapchatting like 20 clips to your mates over a 2 hour period… well, they all fucking hate you. You dicksplash (I learned this word from Chris, at the gig. We bonded, silently, I'm sure).
2/ The Disco Queen
It's 8.30pm and she's drunk already. Somehow not realising that she's at an acoustic show in an "auditorium", not in a crowded club playing Rihanna's latest hit, she spends the whole night standing up, gyrating and jiving wholly inappropriately in her short, black slinky dress.
Like, seriously dude. It could only have gotten worse if she'd started twerking… and she really wasn't that far off.
Even at the end of a song where Chris and Bryan were going into crescendoed strumming and essentially just making thunderous white noise, she just kept on dancing to some mysterious beat… which makes me wonder whether she just had an iPod in her ears the whole time. Huh.
3/ The Screamer
AAAAAAAAAAAAHHHHH!!
God. Dammit.
My eardrums just burst from the ridiculously high-pitched screaming from the girl with the extremely healthy set of lungs behind me.
Don't get me wrong – it is cool that you're having such a good time. But again, we're at an acoustic gig and people within a 3 seat radius of you are literally flinching when you scream like you've been touched on the ankle by a poltergeist every 2 minutes.
To her credit, I eventually asked her (nicely) if she could tone it down a bit, and she apologised profusely and for the most part stifled down the screaming (though it escaped a few more times followed by a lot of apologies, god bless her).
And last but not least…
4/ The Couple Who Left To Get Busy
So this didn't annoy me per se but I just found it really quite amusing.
Aging grunge couple who apparently enjoyed the show SO much that about halfway through they suddenly jumped up, the girl clutching her handbag, and rushed off (awkwardly making their way through about 5-6 seats worth of people).
At first I was kind of like, oh, are they leaving early to beat the traffic?
Wait hold on, it's only been like an hour…
Whaaat??
About half an hour later they came back in. If the guy had had any hair it would have been ruffled, I bet you.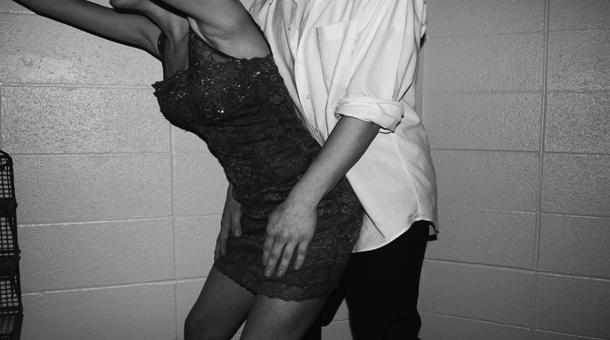 Seriously? A Chris Cornell acoustic gig got you so freaking turned on that you had to bail and go bang in the bathroom??
Again… acoustic gig, fancy auditorium and quickies in a toilet stall don't reaaaally go together if you ask me.
But again, at least this didn't annoy anyone and I'm happy they had a great time.
The rest of us did too – perhaps not quite as good as these guys though, haha.
Thank you Chris Cornell for an otherworldly gig. And Bryan, we love you.