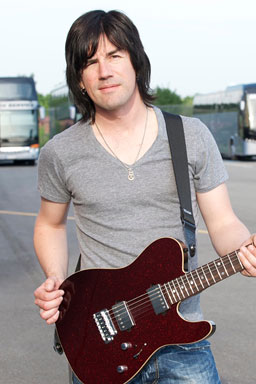 Who is Pete Thorn? Our friend Jon at Guitar Noize answered that in great detail awhile back. Suffice to say – Pete Thorn is one of the most accomplished gun-for-hire guitarists in the world at the moment, touring with a wide variety of renowned artists, as well as being one of the most respected Youtube gear demo guys.
Cool thing is, even though he's really been more of a "behind the scenes" guy, he's now racking up the recognition that he deserves. It looks like Premier Guitar has asked him to start writing a column called "Tone Tips", and here's an excerpt from that first column:
Welcome to my first installment of "Tone Tips." I'm honored and excited to be a part of the fine publication that is Premier Guitar. For those who aren't familiar with me, I've primarily made my living as a touring sideman for the last 15 years, playing with such artists as Chris Cornell, Don Henley, Melissa Etheridge, and others. My goal with this column is to pass on some real world, practical knowledge that I've learned while touring. Sometimes the focus will be on equipment, sometimes on playing and performing, and sometimes on how I operate mentally on a day-to-day basis while touring. This month, let's discuss how to choose the right gear for a particular gig.

No Two Gigs Are the Same


It took me a while to realize that every single gig I do is different—in every aspect. The music is all certainly different, but in many other ways, no two gigs are the same because the dynamics of each tour varies. Let's take travel, for example. You might be flying everywhere on some gigs, traveling by tour bus on others, or even faced with traveling in a 15-passenger van with an attached trailer on another.

The number of band and crew members varies from gig to gig as well. You might have your own tech, share a tech with another member, or have no tech at all. All these and other variables need to be looked at carefully when choosing what gear you'll use for a particular gig. Let's start with the audition…

Auditioning and Gear
You are always expected to bring your own guitars, accessories, and pedalboard/effects, but in my experience doing auditions, an amp and cabinet will often be provided for you. (You should, of course, always ask beforehand.) The thinking is that providing an amp will mean less setup and teardown time between auditions, thereby facilitating auditioning numerous guitarists. That said, I have mixed feelings about using amps that are provided at auditions.
The rest of the article is available at: http://www.premierguitar.com/Magazine/Issue/2013/Jan/Choosing_the_right_Rig_for_the_Gig.aspx#ixzz2EhYjnRYE
I'll be following the series with great interest – I'm sure that Pete will have some great advice for all us guitarists, and as he doesn't seem to be burdened with the rockstar or prima donna attitude, I'll bet it'll be great to learn from him.