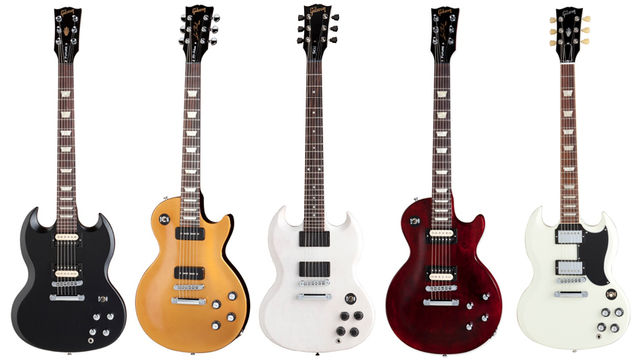 Well apparently, Sweetwater in the States have already started listing 2013 Gibson models for sale… so it looks like they will be our first glimpse into what Gibson has in store for us in the new year. According to MusicRadar (cos I'm too lazy to count for myself), Sweetwater shows a whopping 69 (!!!) new models for 2013.
Doing a little digging shows that some of these are up on the Gibson website already:
http://www2.gibson.com/Products/Electric-Guitars/Gibson-USA.aspx?ProductGroup=2013_Model_Year
The emphasis seems to be on the more affordable ranges, much like the Studio Tribute series we got a few years back. That's a double-edged sword in my mind – I really like that more people will be able to achieve their dreams of owning a "real Gibson", but to be honest, the Gibson LP Studio Tribute that I owned briefly last year, I didn't like all that much. It was too light (we don't like Les Pauls to feel like toys), a little rough around the fret edges, nut cut too shallow (but that's common to all new Gibsons), and I have severe doubts as to whether the timbers were what they claim they were… and then there's the whole question of "how is Gibson making them so cheap all of a sudden…. and where might they be "making" them…"
Anyway. As usual, I digress.
I'll do a bit more in-depth digging into the general model/spec direction when I can, but for now – at least that baked maple shit is gone. Rosewood is back for 2013, baby!
Here are all the models that Sweetwater has loaded up on their website so far: http://www.sweetwater.com/store/search.php?s=s%3Agibson+2013&sb=low2high
Mahogany body with solid carved maple top, Mahogany neck with comfortable, rounded '50s profile, Rosewood fingerboard with trapezoid inlays, a Pair of powerful P-90 pickups in the neck and bridge and Grover™ Kidney button or Min-ETune™ automated tuners
Product Features
Mahogany body with solid carved maple top, Mahogany neck with a fast, slim '60s profile, Rosewood fingerboard with trapezoid inlays, BurstBucker 1 and BurstBucker 2 humbucking pickups in the neck and bridge and Grover™ Kidney button or Min-ETune™ automated tuners
Mahogany body with solid carved maple top, Mahogany neck with medium '70s profile, Rosewood fingerboard with trapezoid inlays, a Pair of high-output Dirty Fingers™ humbucking pickups in the neck and bridge and Grover™ Kidney button or Min-ETune™ automated tuners
Mahogany body with solid carved maple top, Mahogany neck with new Asymmetrical profile, Rosewood fingerboard with trapezoid inlays, Zebra-coil '57 Classic humbucking pickups in the neck and bridge and Steinberger™ gearless tuners or Min-ETune™ automated tuners
Mahogany body with carved Maple top, Maple neck with rounded '50s profile, Rosewood fingerboard with trapezoid inlays, 490R and 498T humbucking pickups in the neck and bridge and Vintage-style tuners with 16:1 gear ratio
Select Mahogany body with carved, solid Grade-AA figured Maple, Mahogany neck with a 60s SlimTaper™ profile, Granadillo fingerboard with trapezoid inlays, 57 Classic and '57 Classic Plus humbucking pickups in the neck and bridge and Grover™ locking tuners or Min-ETune™ automated tuners
Solid Mahogany body with standard or grade AAA-premium figured Maple top, Mahogany neck with compound radius Rosewood fingerboard and asymmetrical SlimTaper™ profile, BurstBucker Pro Rhythm and BurstBucker Pro Lead pickups in the neck and bridge, TonePros™ Tune-o-matic bridge and stopbar tailpiece and Grover™ Locking kidney tuners with 18:1 tuning ratio
AAAA Figured Maple Top and Back50's Rounded Neck Profile, Ornate Earth Inlay made from Abalone and Brass on Headstock, Gibson's 490R and 498T PickupsGrover Keystone Tuners
Features Gibson's rounded 50's-Style neck profile, Avaiable in seven classic 'burst and plain top finishes, Gibson's renowned '57 Classic pickups supply vintage PAF humbucker crunch, Traditional weight-relieved mahogany body offers enhanced acoustics & resonance, TonePros Kluson vintage-style tuners offer world-class performance and classic look