May 5, 2012
A few days ago I posted up the first review, and was stoked with the response – thanks to all the readers on the site, on Facebook – I'm working on Twitter and G+ integration as well for you social mediaphiles.
Gear Vault #1! 
I dipped randomly into the murky depths of my Photobucket account, and came out with this: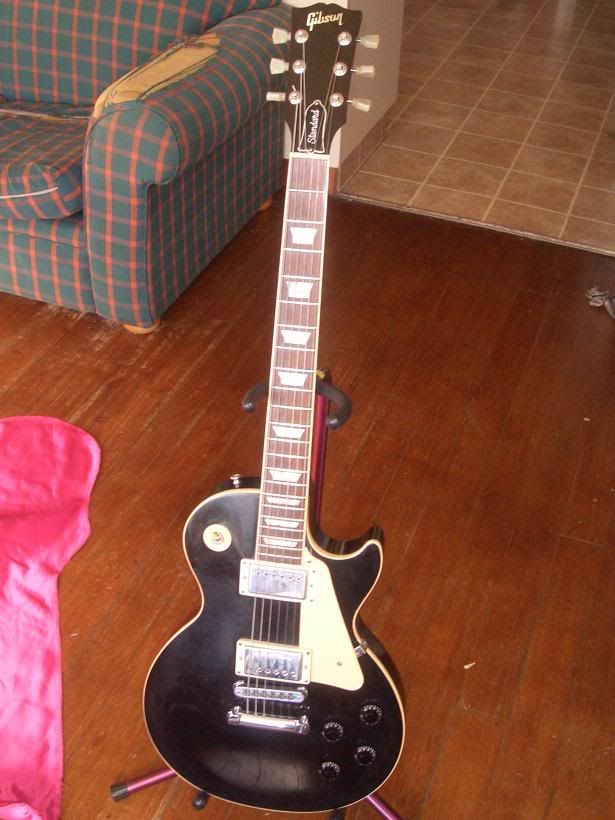 My first real Gibson Les Paul!!
I was so fucking excited to get this thing. I believe the year was 2006 – the background in my guitar photos usually reminds me of where I was living at the time, and in 2006 I was in my second year of uni, living at a shitty flat with some of my bandmates at the time. Later on, shit got real, and everyone turned douchetastic, with crazy flatmate carnage ending in a fight with the police getting called… but that's a story for another time.
I got this off a guy I knew on an online guitar forum, and was so excited to own my first Gibson LP (used by so many of my guitar heroes that it wasn't funny), that I neglected to observe one very basic thing – did you see it?
The "Les Paul" silkscreen that should be on the headstock? It isn't fucking there.
Holy crap!!! I didn't even realise until I proudly posted pictures on the net, and people were all like, hey dude, what's up with that fucked up headstock.
Luckily, it wasn't a fake – just some sort of weird refinish job. Or so I hoped!
Looking back now – it had a dodgy headstock, but by God (or insert deity of choice), it was a Les Paul. It had a good weight to it, played well, and sounded like beefy LP goodness.
Now, I've played a fair number of Gibsons since then, and now I can tell whether a guitar is a dog or not – but with this one, I honestly can't remember (it was a long time ago and I was pretty green), but it doesn't matter. It was my first Les Paul, the first "true" connection I had to the guys I'd spent hours trying to emulate. Put that shit up vertically on your knee and slap a tophat on, and away you go.
When was the first time you got an "iconic" guitar that you were super stoked about? What was it?